After Maulana Tariq Jamil called out the media and made certain remarks about why we had been punished with a virus like Corona, the feminist brigade and a number of media personnel went out calling the cleric for his comments. Following the backlash he received,  the respected cleric apologized for his certain remarks that might have upset a certain sect of the society.
A tweet from Maulana Tariq Jamil's official Twitter account stated, "During the conversation on Prime Minister's program "Ehsas Telethon," the mention of lies and obscenity was meant to indicate the avoidance of these deadly diseases, it was not meant to offend any individual or institution."
https://twitter.com/TariqJamilOFFCL/status/1253836786826182656?s=20
"I sincerely apologize if my conversation has offended any individual or department," wrote Maulana Sahab in another tweet apologizing to everyone.
https://twitter.com/TariqJamilOFFCL/status/1253836727858405377?s=20
Following the cleric's apology,, a number of Pakistani celebrities came out supporting Maulana, saying it was no way he should have been judged or bashed.
Here's who has been saying what in support of Maulana Tariq Jamil.
https://www.instagram.com/tv/B_aaCi6jhhZ/?utm_source=ig_embed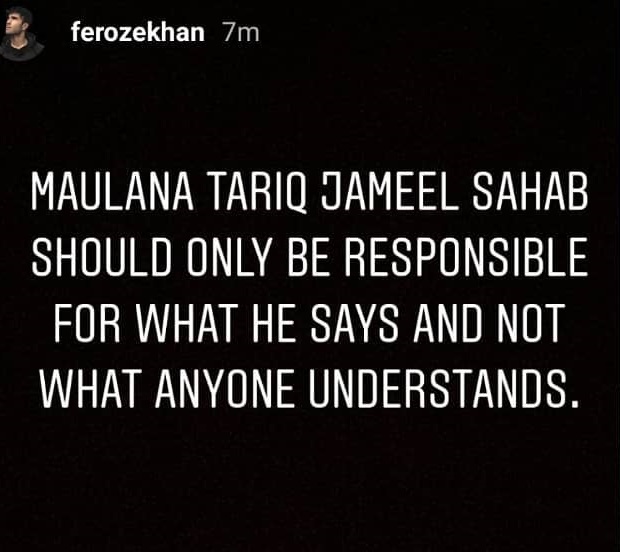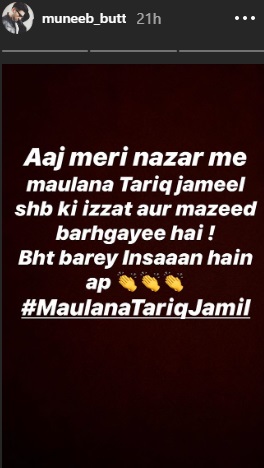 https://www.instagram.com/p/B_aN9funTof/?utm_source=ig_embed
https://www.instagram.com/p/B_adx2-g2uN/?utm_source=ig_embed
اگر مولانا طارق جمیل صاحب صحافی ہوتے تو بغیر ثبوت کےکچھ بھی کہہ سکتے تھے کیونکہ صحافی کچھ بھی کہہ سکتے ہیں ثبوت مانگو تو کہتے ہیں خفیہ زرائع بتائے نہیں جاتے

پیمرا میں دبنگ بندہ چاہیے جو جھوٹی خبر پر پابندی کے ساتھ صحافیوں کی لتر پریڈ بھی کرے

— VEENA MALIK (@iVeenaKhan) April 25, 2020
#molanaTariqJameel it was heart breaking to see Molana sb apologise to this corrupt system and people who support and take due advantages from them including media . Respect and support for him and all those who are asking him to apologise must apologise to him now !!!!

— Jasmeen Manzoor (@jasmeenmanzoor) April 25, 2020