Saif Ali Khan's daughter, Sara Ali Khan, is the youngest Bollywood sensation. The young diva has been making headlines left, right and centre ever since her big screen debut in Kedarnath following Simmba. Her fan following is growing by the minute and it doesn't really come as a surprise that Sara's fans keep hunting for her unseen pictures from everywhere.
This time, it is a picture of 17 year old Sara Ali Khan that has gone viral.
The Nawab family can be seen in a family portrait from Saif and Kareena's wedding back in 2012. While both Saif and Kareena look regal alongside the Pataudi clan, it is Saif's children, Sara and Ibrahim who look just too cute.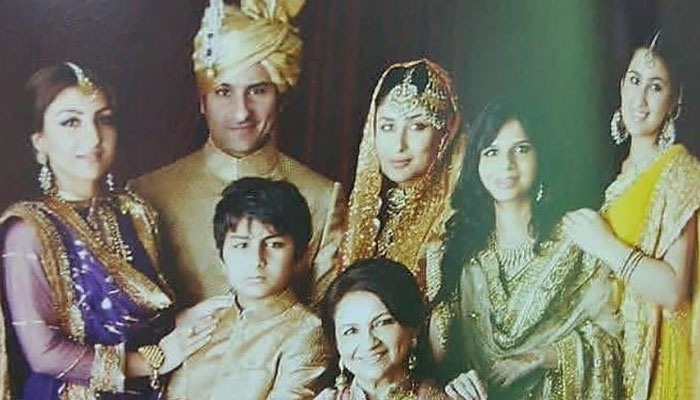 What should be mentioned here is the fact that Sara looks radiant in her yellow lehenga in this picture.
Earlier, in an interview, she did mention that it was her mother, Amrita Singh who had dressed her up for Saif and Kareena's wedding.
"I must tell you, mom dressed me for my father's wedding," Sara had confessed on Koffee With Karan. She also added that it hadn't been awkward for them when Saif had married Kareena.
"I feel that everybody has been very clear with me, vis-a-vis the equations. It has never been confusing. Kareena herself says, 'Look, you have a great mother. What I want is for us to be able to be friends.'
"I see my father today and I see my mother today and I think that they are both much happier than they would have been together. Therefore, everyone around them is happier. What I have today is two very comfortable homes as opposed to one uncomfortable home," Sara had said said.